Greer Grimsley (Macbeth), Christopher Gaze (Richard III), Nick Harrison (English Soldier)
Thursday, November 23, 2006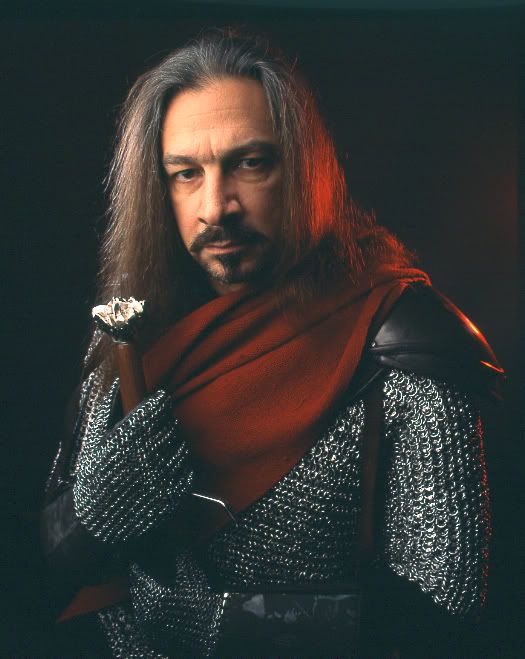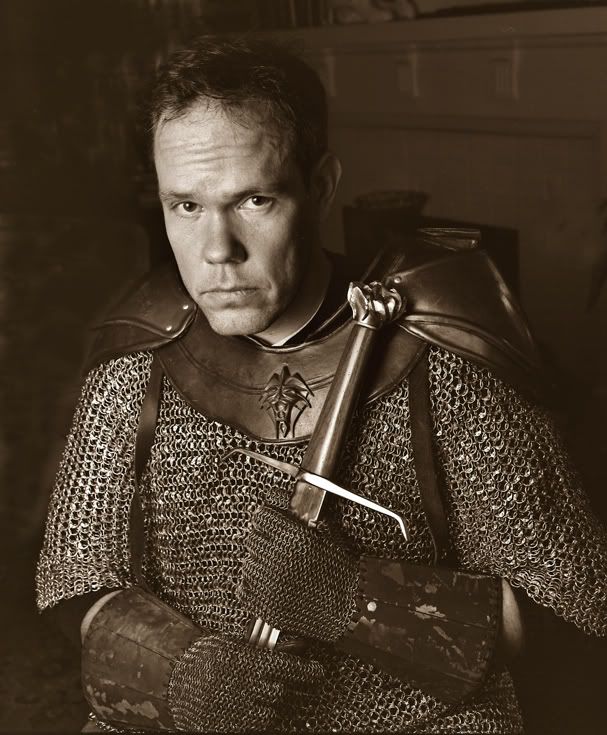 Nick Harrison (actor/sword master/stunt performer) sat on a stool in my living room wearing his chainmail, a mantle, chainmail gauntlets and broad sword. With his short cropped hair (as if he had just removed his helmet) he looked like an English soldier after the battle of Agincourt. A couple of hours later American baritone Greer Grimsley, in town for Vancouver Opera's performance of Verdi's Macbeth, was in my studio facing my camera and wearing Harrison's equipment. Harrison had kindly lent it to me for the
Georgia Straight
photograph. In 1950 when my mother first visited Mexico from Argentina she was given a rough textured, blood red rebozo that I have lovingly kept and used for special photo sessions. When Grimsley saw it he said, "This is perfect. In Macbeth's time they did not yet have tartans. This will be look accurate." While I was taking my photographs I kept thinking of the interesting link between two of my protagonists here and
Bard on the Be
ach's Christopher Gaze. In the hopes of catching a glimpse of Kenneth Branagh (see in blog below) Gaze accompanied me when I photographed Branagh. In 1998 I photographed Gaze in his 1998 appearance as Richard III.
Adendum by Nick Harrison (who is the fight choreographer for this opera) on sword seen here:
It is a bastard sword. It's called a bastard sword because it can be used with one or two hands. The story behind that sword is that it was the very last sword made by my father. He was 87 - He made that one in July of 2006. He died August 2006. The pommel on the sword is a lion rampant.
Nick
The sword in the photo was Branagh's from his 1998 film Henry V. When I was desperately trying to find a broad sword for my Macbeth session it was Gaze who pointed me in Harrison's direction. And here they all are!
Vancouver Opera's Macbeth
Bard on the Beach