The Solid Aluminum Presence Of Robert L. Grassby
Tuesday, August 26, 2008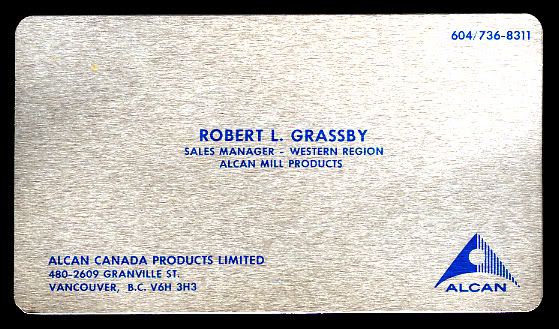 Robert L. Grassby came into Tilden Rent-a-Car on Alberni Street in 1975 and asked for a Ford station wagon. When he returned the car a few days later he gave me his card and told me, "If you ever need my help give me a call." I have no idea why the man had been so pleasant with me. I do recall he was tall and he looked both intelligent and prosperous. He seemed the epitome of the modern upwardly mobile executive. I never saw him again but I kept his card because I thought it unusual. It was made of solid aluminum.
Since Rosemary is now at home she is trying to keep our unnecessary costs down. She wants me to get into a cheaper plan with my cellular phone. The phone is efficient but ancient and I use it purely as a phone. I have no call forwarding or caller ID and I would not think of using it for text messaging. "Surely, " Rosemary told me, "You can pay less if you don't have any extra features. A pleasant French Canadian from Telus (after being on hold in a priority mode for about an hour) told me the easiest way to save money was to register the numbers I used the most into a plan that would make calls to those numbers unlimited and or free. Rosemary checked and told me what I already knew. I call home, Hillary (Rebecca and Lauren's mother) and my friend Paul's cellular number. My calls to friend Ian Bateson and John Lekich I make from home so I don't go into expensive extra minutes with them.
It dawned on me today(I had the suspicion) that my world, my social and business world is shrinking. My friend Ian McGuffie would simply say it is entropy at work and soon my life as well as that of my friends' will grind to a halt.
It wasn't always like this. Back in 2002 the year began with such a bang of work and activity that I never transfered my contacts and phone numbers from the old 2001
Graphic Image
agenda to the new one. So for most of 2002 I went around with two of them. I used the old one for the phone numbers and the new one to write down my appointments. Rosemary has told me that soon enough the year 2002 will be identical to a future date and I will be able to use the agenda again. I don't think so.
Looking into the phone number section of my 2008 Graphic Image agenda I noticed that I have fewer phone numbers listed and many that are I no longer call. My friends Nora Patrich and Juan Manuel Sanchez have gone to Argentina. The design firms I used to have a work relationship with no longer call me and mainly use stock imagery. Vancouver Magazine will not give me work as the art director holds some grudge. And the list of diminishing contacts diminishes!
My friend Grant Simmons shocked me this morning. I was complaining to him about the increasing mediocrity of my working relationships with magazines and how it was getting me down. He said, "You stay here because of your daughters and your grandchildren. When Rebecca no longer wants to visit you, when her boyfriends become important, what will keep you in the city? Does not Mexico beckon?"
I am currently working on my personal project called Mexican nostalgia. I find that there is nobody I know who would be remotely interested in my nostalgia of Lady Windermere's Fan (an Oscar Wilde play). I saw the play in Spanish in Mexico City in 1959 and Lady Windermere was the great Mexican actress Dolores Del Río. I will be taking pictures of Ms Hernandez with her hair up while holding my great grandmother's fan. Most of the people I know don't have a clue as to who Dolores Del Río is.
I asked Rosemary, "Do you feel we are isolated?" While Rosemary is a lot less social than I am she still answered that indeed she did feel we were isolated.
As entropy takes control of my life and I remember emptying my rolodex into our fireplace a few years ago, I find it somehow comforting that something of my former life remains, and that is the modern and dynamic Robert L. Grassby's solid aluminum card.